The MCG has become one of the first venues in Victoria to introduce advanced accessible bathroom facilities for people with a disability.
Accessible toilets in Victoria rarely have an adult change table or enough space for two carers to help with heavy lifting.
Now, thanks to a state-wide initiative, a new 'Changing Places' toilet has been installed at the MCG, offering more dignity and comfort for disabled users.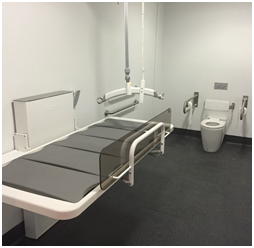 The MCG bathroom, located on the ground level inside the Gate 3 entrance, comes with a height-adjustable, adult-sized changing bench, a tracking hoist system, space for a person with a disability and two carers, as well as a non-slip floor and a safe and clean environment.
The Association for Children with a Disability says the new bathrooms will stop people with disabilities becoming isolated at home, which is a common problem.
Bernard McCarthy, whose 28-year-old son Brendan uses a wheelchair, told a media event in September that he and his son visited the MCG almost weekly and always had to arrive early so that they had time to visit the bathroom.
"When we go out we have to plan our day around the most accessible toilets," he said. "People just don't understand. They put a disability sign on the door of a larger room but it's useless. Luckily the world is slowly changing."
View more information about MCG facilities for people with a disability.