Neale Daniher will forever have an immortal presence at the MCG, with a walkway leading to the iconic stadium unveiled as Daniher's Way.
Premier Daniel Andrews, Minister for Tourism, Sport and Major Events Martin Pakula and Melbourne Cricket Club (MCC) President Michael Happell joined Daniher as they dedicated the footpath between William Barak Bridge and the MCG in honour of the FightMND campaigner and former footballer and coach.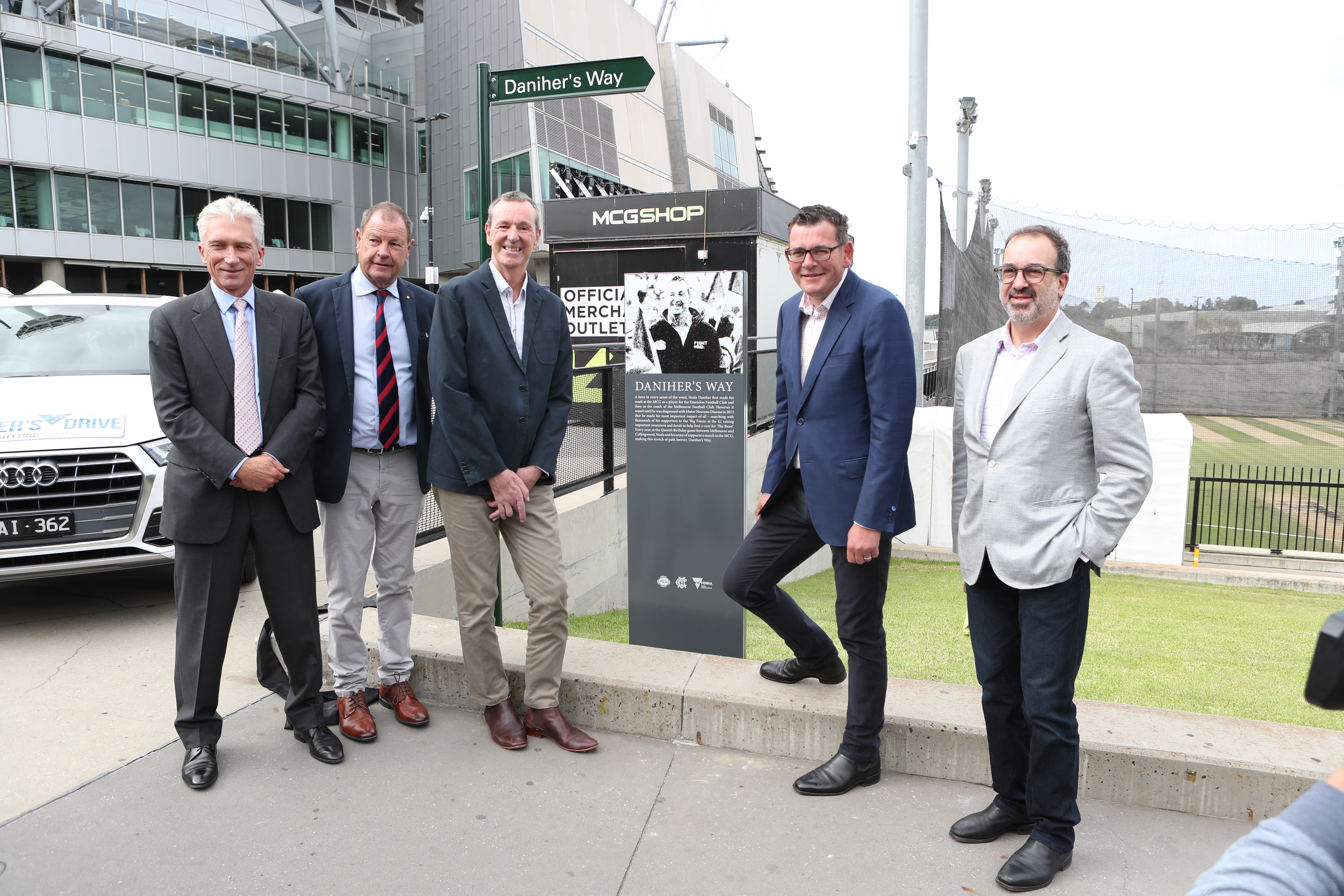 The former Essendon captain and Melbourne coach was a regular at the MCG, playing 82 games for Essendon before coaching Melbourne for 10 seasons – from 1998 to 2007.
In 2014 Daniher was diagnosed with Motor Neurone Disease (MND), a name given to a group of diseases in which the nerve cells controlling the muscles that enable us to move, speak, eat, swallow and breathe fail to work normally. That same year Daniher, Pat Cunningham and the late Dr Ivan Davis founded FightMND with the purpose of finding effective treatments and a cure for MND.
Happell said the recognition of Daniher in a major thoroughfare surrounding the MCG is a fitting acknowledgement to recognise Dahniher's accomplishments on and off the football field.
"The MCC couldn't be prouder to have this path named after Neale. Neale's contribution to the community, brought to life at the annual Big Freeze match, has become part of the fabric of the football season."
The Premier said that Daniher will leave a lasting legacy – both to the football and wider communities.
"This is a small gesture to a man who has made a huge contribution to football, to medical research and to Victoria."
"Neale made his name on the MCG, but his lasting contribution will be through his tireless work to not only raise awareness of MND, but to find a cure."
The Premier also announced today an additional $1 million donation to FightMND.
Daniher thanked the Victorian Government for their donation and the announcement of Daniher's Way at the MCG.
"I thank the Victorian Government for this honour of Daniher's Way and for its donation towards the fight against MND
. We continue to fight 'The Beast' and this contribution is significant and greatly appreciated."

More information about FightMND and Daniher's Drive can be found here.